About Metro Storage
The Perfect Self Storage Solution On Your Doorstep
If you're looking for a self storage solution in Central London then Metro Self Storage have the answer for you. Our safe, secure and affordable sites in Islington & Bayswater are easy to access and give you a choice of storage sizes to suit your needs. We're honest, flexible and keep our storage unit costs fair so you can always be sure that you'll only pay what you've been quoted.
Metro Storage is a family run business, owned by brothers Angus & Simon Burnett. Established in 1998 Metro has been providing people with high quality and great value storage solutions in Central London for nearly 20 years.
We're always on the lookout for new opportunities and always rewards any introductions that progress to a deal. If you have any site you think might be of interest, then please contact Angus Burnett on apb@metro-storage.co.uk or 0800 999 5881.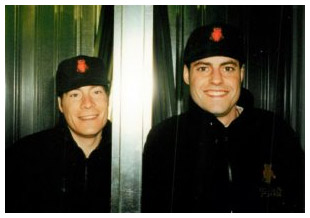 The Metro Storage Story…
Angus and Simon's entrepreneurial streak has been apparent from a young age and over the years they have worked together on many different businesses. Their brotherly business ventures first started when Simon, the older of the two, hit upon an idea during the University holidays. The plan was to buy Christmas trees from where they grew up in West Sussex and bring them up to London to sell to the large properties in Chelsea, Belgravia and Notting Hill. Throughout the Christmas season both of them could be seen charging around the smarter areas of London, in a battered old blue Nissan pick-up they had borrowed, to deliver and erect the trees they had sold to the wealthy homes. It was hard work but a great lesson in business and a great success.
Their start in car parks was no less enterprising. Having heard about a disused site in Islington they borrowed £10,000 from their mother to put down a layer of hardcore and rent a kiosk. Shortly after the gates of their first car park were opened… and they took a grand total of £8.50 on the first day! Doing a quick bit of mental arithmetic it became clear that at that rate it would take a very long time to pay back the money. Luckily, things improved and the funds were repaid with interest!
After several years running multiple car parking sites in Central London, the brothers saw an opportunity to expand into the self-storage world. By purchasing poorly performing car parks and converting them into storage they were able to offer excellent facilities to the people of Central London and in 1998 Metro Self Storage was born.
Angus Burnett
Co-Founder and Director
Angus was and still is responsible for site finding, deal negotiating, fitting out, marketing and running all aspects of the storage business. Angus has been an active Member of the SSA (Self-storage Association of UK) having chaired the 'Smaller Operators Division' as well as sitting on the Board of Directors for 5 years and holding the role of Association Treasurer for 2 years (now retired). Angus is the driving force behind what pushes Metro Storage forwards and has great expectations of growing the business in the coming years, whilst staying true to its core values and maintaining its well known very high levels of customer satisfaction.
Simon Burnett
Co-Founder and Director
Since 1992 Simon has been responsible for the operation and management of over 30 car parks (both leasehold and management agreements) in Central London and across the UK.  Simon and Angus have been working together since 1996 and continue to operate Parking Professionals in Central London.  As a team we have worked together on Metro Storage since 2010 and have utilised our knowledge to convert under utilised or non profitable car parks into self storage – a better use of space in London! Simon has many years of experience in both the parking and storage sectors and along with Angus we aim to offer the best possible storage experience.