What would you like to do?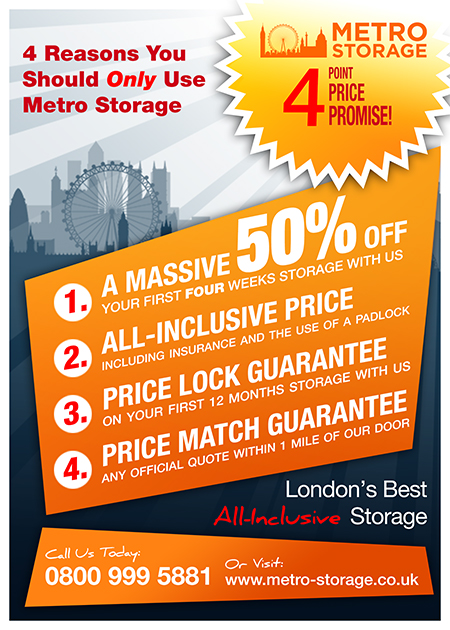 Are you hunting for information on self storage Bayswater (W2)?
Then look no further!  Metro Storage provides secure self storage in Bayswater with the most extensive opening hours in the area. We have many different size units available to suit your needs.
So … what's in it for you?
50% OFF YOUR FIRST 4 WEEKS STAY WITH US
FREE insurance included in our price for full peace of mind
Extensive opening hours – access your unit as often as you need
One simple price including storage fee, insurance and VAT – no nasty hidden extras!
Packaging Supplies – all available on site
Further Discounts for pre-payment – up to 15% per year
Book a Viewing
Self Storage the Easy Way
Let us call you or call us for FREE (including mobiles) on 0800 999 5881
With our central London store having self storage in Bayswater (W2) has never been easier.  Our store serves the Queensway, Notting Hill, Holland Park, Paddington and Kensington areas – we are ideally located to act as the 'Spare Room On Your Doorstep!'
Metro Storage – the spare room on your doorstep in Bayswater.
Self Storage Bayswater – why not sign up to our Blog to be kept up to speed on deals
We love Bayswater …
We know that Bayswater is a great place to live but it can be expensive, so we can help store your goods for as long as you need to help keep your living costs down without having to move!
Metro Storage like to offer a complete service but at the same time like to keep the whole experience as simple as possible – we believe storage should not be a complicated thing.  That is why we include insurance in our 'One Price' along with any VAT.  The price you are quoted is the price you pay – no hidden extras (unlike some competitors we could mention!).
Limited to availability, we also have a generous 50% OFF your first 4 weeks storage fee as well.
The Team look forward to helping you and if you wish, welcoming you to our self storage store in Bayswater, so please do contact us and get in touch if we can be of any help at all.
Storage Unit Video Size Guides
Below you will find a range of videos to provide an idea of the size of our storage units, exact shapes can vary depending on the specific unit. Click the sizes below then hit play to view the video for the size you require:
Like a walk-in wardrobe, Contains up to 60 medium boxes, includes £2000 of insurance cover.
Contents of a one bedroom flat, contains up to 120 medium boxes, includes £4000 of insurance cover.
Contents of a 2 bedroom flat, contains up to 170 medium boxes, includes £5000 of insurance.
Contents of a 2 bedroom house, contains up to 230 medium boxes, includes £8000 of insurance.
Contents of a 3 bedroom house, contains up to 350 medium boxes, includes £8000 of insurance.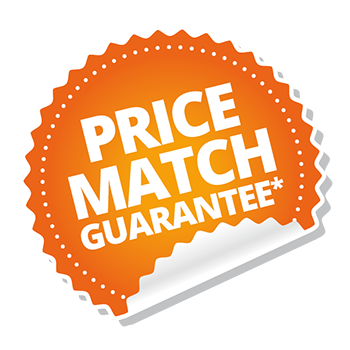 We are so confident that our ALL-INCLUSIVE prices are competitive that we are offering a 'Price Match Guarantee' with any official comparative quote from any self-storage operator within 1 mile of our front door!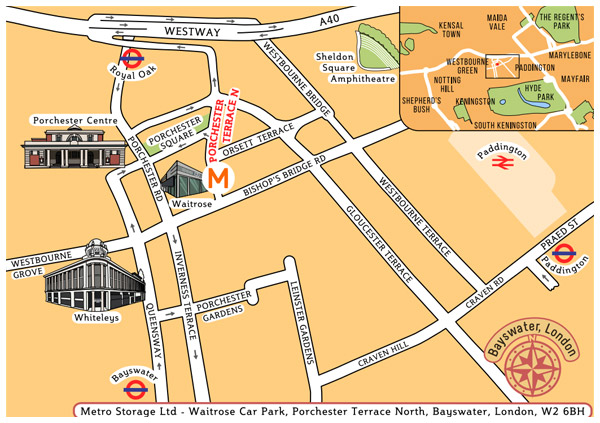 How to Find Us
By Foot:
Walk into Waitrose, take the lift down to the car park.  Enter the car park from the lift lobby and go to signposted car park office.  The onsite team will be delighted to look after you.
By Road:
If coming by car, van etc the entrance is on Porchester Terrace North.  We are located in the Waitrose Colonnades Car Park.  Postcode for satnav is  W2 6BH.  Please note there is a height restriction of 1.9m
Opening Times:
Monday to Saturday: 8am to 10pm
Sundays and Bank Holidays: 10am to 6pm
We have a number of Pricing Bundles available – a great way to save money!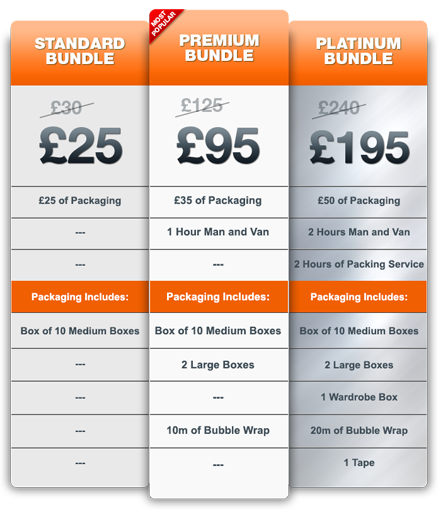 Have Any Questions?
Enter your details below and we will contact you as soon as possible:
Waitrose Car Park, Porchester Terrace, London, W2 6BH